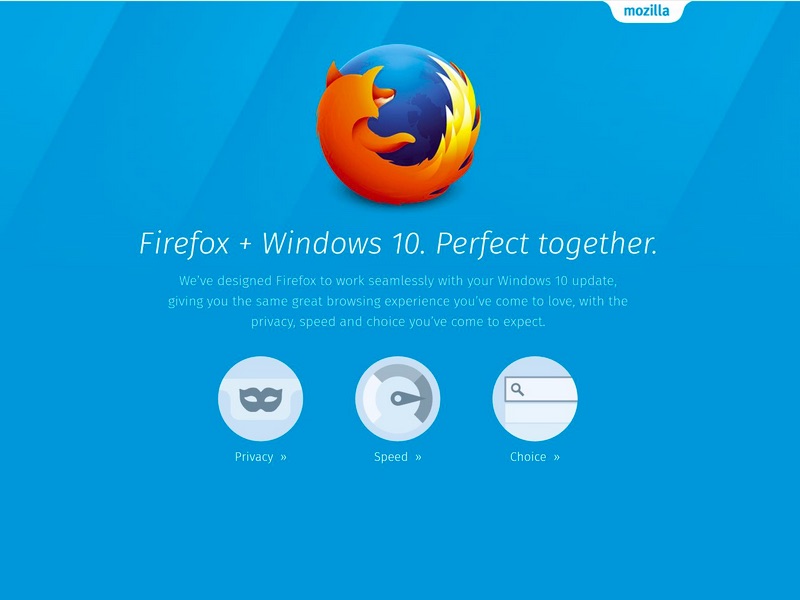 Mozilla's Firefox now officially supports Windows 10. The company has released Firefox 40 which comes with a fresh new look and a handful of features that are designed to take advantage of Windows 10. The firm has also released a Firefox 40 for Android.
First up, the search box in Windows 10 taskbar can be used to search the Web using Firefox. Not only does it make things convenient, it also lets you search using Google (or any other search engine) instead of the default Bing option.
There are several minor tweaks in Firefox design here and there. For instance, some icons are a little bigger and darker than before – something which could come in handy to Windows 10 users who are using the new operating system on a touch-capable device.
Firefox makes use of Google's Safe Browsing, a program run by Google which blocks websites that host malicious content. If you ever visit a shady website, Firefox will warn you about the potential threats.
Mozilla also notes that starting with the new browser, add-ons are much safer to use with Firefox. It is because the company has started to certify each plugin individually. It further notes that it will soon start disabling any third-party add-on that hasn't been certified. It's indeed a welcome move that could significantly cut down on shady extensions in Mozilla's app store.
Other new features in Firefox 40 for Linux, OS X, and Windows include suggested tiles in the new tab page based on categories derived from browsing history, new styles for the add-on manager, and an improved graphic blocklist mechanism. Firefox Hello now also allows users to add links to conversations. More changes are detailed in the company's release notes.
Incidentally, the company has also updated Firefox client for Android. Firefox for Android v40 introduces increased protection against websites that offer unwanted software, again using Google's Safe Browsing service. The browser also issues a warning in case the page the user is visiting is known to contain deceptive software.
For those users who do not want to give Google data about downloaded files, an option to turn off the feature has also been detailed. In addition, now if a user long presses on back/forward navigation button in app menu, the history list shows up.