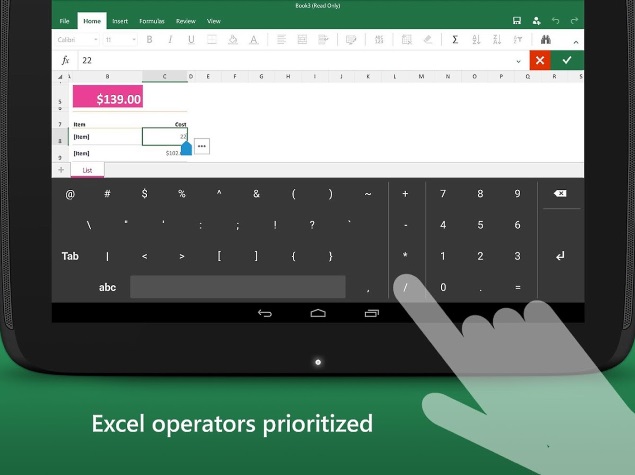 Microsoft on Thursday launched an app called Keyboard for Excel on Google Play for Android 4.0 and higher tablet devices. As yet, the app is restricted to users in the US, and Microsoft notes that "this is an experimental keyboard that supports only English characters without auto-correct and gesture typing."As the name suggests, Keyboard for Excel (download) is specifically optimised for users to efficiently work on Excel projects. The app is a Microsoft Garage project that provides a 10-key number layout (or numpad) on the right side of the keyboard along with a 'Tab' key on the left, just like the full-size physical keyboard.Not just that, the Keyboard for Excel app also includes Microsoft Excel operators prioritised in the keyboard layout for quick turnaround. The keyboard can also work like any other third party keyboard on Android tablet. and not just within the Excel app.
Earlier than this, the Microsoft Garage project behind the Keyboard for Excel app had launched two interesting lock-screen apps called the Next Lock Screen and Picturesque Lock Screen for Android devices.
The Picturesque Lock Screen app was launched earlier this month, whereas the Next Lock Screen was launched in January.
The highlight of the Picturesque Lock Screen app is that it can change images (choosing from the past 6 days of Bing home pages) with just a shake of the phone or by swiping to the right.
Both apps -the Next Lock Screen and Picturesque Lock Screen – allow users to access missed call notifications, text messages and also the search function directly from the lock screen without unlocking the phone, a stock feature found only in Android 5.0 Lollipop or higher devices.