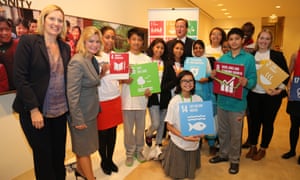 The UK's £5.8bn ($8.8bn) pledge to help poor nations cope with climate change falls short of the country's fair share of the burden and the efforts of other European leaders, campaigners have said.
The announcement increases the UK's climate aid by 50% over the five years between 2016 and 2021. Significantly, it will also be scaled up, so that by 2020 the annual finance is £1.76bn ($2.68bn), or close to double the current annual funding.
The rich world has promised to contribute $100bn each year by 2020 to help developing countries cope with climate change. The new tranche of UK funding was "compatible with our fair share of the $100bn", said the energy and climate change secretary Amber Rudd. "The UK is playing its part."
The news was widely welcomed by the NGO community, including Oxfam's lead advisor on climate change policy, Tim Gore, who said it was a "credible pledge". But he said that all countries would need to do more.
"We want to see the majority of the $100bn to come from public funds," he said. "If everyone doubles their current commitment that will put us at about $40-50bn per year in 2020 from public finance specifically for climate purposes. The rest would then have to be made up of assumptions about how much private finance countries have successfully 'mobilised'. The accounting for this is much less clear."
Oxfam estimates public climate finance today runs somewhere between $17bn and $20bn each year. The Organisation for Economic Co-operation and Development (OECD) sets the number higher, at $37bn, but Gore said this included projects in which adapting to, or staving off, climate change was not the principal objective.
The UK's increase follows moves by Germany – which doubled its 2020 finance in May, which Oxfam said would reach $4.47bn – and the Asian Development Bank – which has doubled its commitment to an annual $6bn. Last week, China pledged $3.1bn over a non-specific timeframe. France is reportedly also set to increase their commitment to $4bn annually at the UN general assembly in New York on Monday. Other announcements from Sweden and Luxembourg are expected in the coming days.
But while the UK joins its European peers in doubling its contribution, Maria Athena Ronquillo-Ballesteros, director of the World Resources Institute sustainable finance programme, noted that it came from a much smaller base. In 2020, France and Germany will be giving approximately twice the UK's intended contribution.
"This is close but definitely not 100% of the UK's fair share. The UK needs to do more together with other donor countries but this is a significant gesture to raise ambition, and especially during a time of austerity," she said.
"Comparing countries is really difficult," said Gore's German colleague Jan Kowalzig. "There is no definition what is climate finance and what isn't."
He said German climate finance included "a lot of rather traditional development assistance that is now increasingly made climate-proof" and France's accounting included a lot of subsidised loans.
"If one looks at what the French budget provides (some of it to make loans concessional) then the French amount is much smaller," he said.