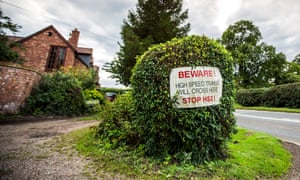 Green organisations could face steep rises in the cost of legal challenges to Heathrow's expansion, or air quality policies, under reforms the government is contemplating.
Proposals to expose claimants in environmental cases to higher financial liabilities if they lose their cases could deter people from bringing actions, according to the Campaign to Protect Rural England (CPRE).
The consultation has been launched to update the UK's responsibilities under the Aarhus convention, which guarantees public participation in decision-making as well as access to information and justice in environmental matters.
But green activists fear the plans, which introduce higher cost caps, coincide with the next stage of major infrastructure projects such as expanding Heathrow to a third runway and the HS2 rail lines linking the north of England and London.
In the past, the prime minister has blamed judicial review cases for delaying economic development. In 2012, David Cameron told the CBI: "We urgently need to get a grip on this. So here's what we're going to do: reduce the time limit when people can bring cases, charge more for [judicial] reviews so people think twice about time-wasting, and instead of giving hopeless cases up to four bites of the cherry to appeal, we will halve that to two."
Ralph Smyth, a barrister and the transport campaign manager at the CPRE, said: "In the run-up to its decision on Heathrow expansion, the government is cynically seeking to make it harder to challenge environmental decisions in the courts.
"What it is spinning as merely 'measured adjustments' would in fact impact hugely on the affordability of British justice for individuals, community groups and charities seeking to protect air quality, green belt, tranquillity and the climate.
"With legal costs in England among the highest in Europe, the current system of costs protection brings much needed certainty for those bringing environmental cases.
"Because of the complexity of judicial review, few cases are brought. While the proposals would save negligible costs, they would introduce significant uncertainty about how much a losing party would have to pay, putting the public off seeking justice in the first place."
Campaigners are worried about consultation proposals to double the caps from £5,000 to £10,000 for individuals and from £10,000 to £20,000 for organisations such as environmental groups – exposing them to higher costs if they lost their cases.
They also allege the MoJ plans contemplate making the higher liabilities apply to each claimant rather than each case, potentially multiplying costs in challenges brought by multiple parties. The department says this is a misunderstanding of the proposals and the cap will still apply to each overall case if bought collectively rather than being applied to every claimant.
It also denies the timing of the consultation has anything to do with Heathrow or other imminent infrastructure projects. A Ministry of Justice spokesperson said: "The proposed changes to the rules around legal costs in environmental cases are designed to make sure challenges can be still be brought without encouraging meritless claims, which cause unreasonable costs and delays."